Going on holiday? A business trip?, Take a look at our competitive Milton Keynes Airport Taxi Transfers prices and let us take the worry out of getting there, on time, every time.
For most people travelling to and from the airport is not one of the most exciting parts of the journey but if you are travelling with us it can be one of the more comfortable and relaxing stages of your trip. Once you have made a Airport Taxi Transfer booking with us, you will be sent an E ticket via email confirming your travel information and if you book our Meet And Greet Service we will arrive ahead of time, Diplay your name on a welcome board for a stress free pick up, to help you with your luggage and escort you to the car which will be parked nearby.
Child Seats
If you require a child seat for your journey to or from Airport then please let us know and we will provide a child seat free of charge, alternatively you can provide your own and we will store it for you and use it on your return. please Note that we can only provide on child seat per car.
Airport Charges
.Some Airports Charge us £3 for all drop offs, this will be added to your normal fare, 30 minutes parking cost is included with Meet And Greet Service.
Waiting Time Is Charged At £15 per Hour Plus All Parking Fees.
Taxi From Milton Keynes Luton Airport Only £33
Taxi From Milton Keynes To Heathrow Airport T1, T2, T3, And T5 Price Only £65
Taxi From Milton Keynes To Heathrow Airport T4 Price Only £70
Taxi From Milton Keynes To Stansted Airport Price Only £75
Taxi From Milton Keynes To Gatwick Airport Price Only £95
Book your airport transfer online by clicking the Green Book Online Button on our home page.
We Have Teamed Up With Premier Taxis Milton Keynes To Offer A Premier Milton Keynes Taxi Service.
Heathrow Airport Taxi
Milton Keynes Premier Taxis – The best connection between Milton Keynes and UK Airports
Taxi Prices From Milton Keynes To UK Airports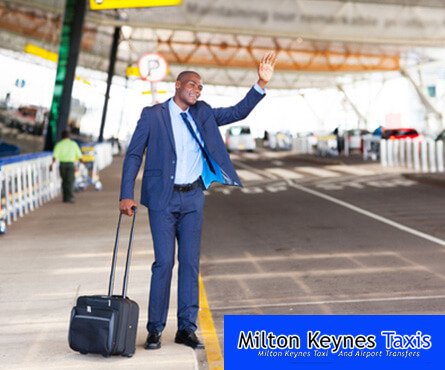 | Location | Rate |
| --- | --- |
| Milton Keynes TO Heathrow Airport T1, T2, T3 | £65 |
| Milton Keynes TO Heathrow Airport T4, T5 | £70 |
| Milton Keynes TO Luton Airport | £33 (includes drop off Charges) |
| Milton Keynes TO Stansted Airport | £75 |
| Milton Keynes TO Gatwick Airport | £95 |
| Milton Keynes TO Birmingham Airport | £70 |